Video improves workflow in the enterprise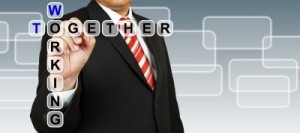 Traditionally, communication within the enterprise occurs through a set of business tools – phone, voicemail, email, fax and SMS. These are proven, but somewhat limited, communication options that can fail to deliver the type of interaction businesses need to help facilitate information sharing and employee collaboration. Organizations augment communication with complex software products to manage their work processes.  Systems like Electronic Medical Records (EMR), Enterprise Resource Planning (ERP), Customer Relationship Management (CRM) and Call Center applications proliferate organizations, but are often independent of the communication trail.
Companies are now finding value in integrating their communication tools with their process workflow applications.  "There's real value in keeping teams connected through video," said John Jennings, AVP/CTO at Trinity Video Communications. "We're seeing a significant increase in the number of large, multi-site corporations wanting to integrate video into their everyday workflow. They realize the tangible benefits provided by video – it reduces unproductive communication, decreases employee frustration and boosts productivity," said Jennings.
The benefits of video-enabled communication is permeating into many different industries – one of those being call centers – as call centers look to update the current phone-based communication model. According to Ofer Shapiro, Co-founder and CEO of Vidyo, a leading provider of video conferencing solutions for the enterprise,  "Demand for video-enabled contact centers is being driven by enterprises that are looking to provide high touch, cost effective, personal interactions as a blended part of their business processes."
Blair Pleasant, President & Principal Analyst at COMMfusion, LLC, agrees with Shapiro's assessment. "Video is becoming one of the desired means of communication between agent and user for a variety of use cases. Contact center vendors that fail to recognize and take action on this trend risk losing market share to more innovative video-enabled call centers," said Pleasant.
If your organization is interested in learning how video communications can improve workflow, contact the experts at Trinity Video Communications. From small businesses with a local presence, to large corporations with a national focus, Trinity can develop a platform that is easy-to-use and affordable.
For more information, contact Trinity Video Communications at 1-800-261-9100
.
About Trinity Video Communications
Trinity Video Communications is an industry-leading audiovisual and video communications company that provides commercial, healthcare, financial, education and manufacturing clients with state-of-the-art technologies that transform the way they communicate, interact and do business. Trinity also provides real-time unified communications to government agencies including the Department of Justice, Department of Defense, Homeland Security and law enforcement agencies at the federal, state and local levels responsible for mission critical initiatives. Trinity is headquartered in Louisville, Kentucky with additional offices in Sterling, Virginia and Cincinnati, Ohio.