Almost half of hospitals use telehealth approach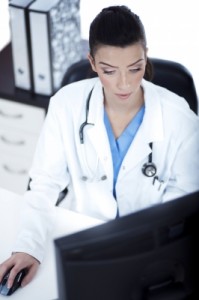 According to a new study conducted by researchers at the University of Michigan and the Center for Connected Health at Partners Healthcare System in Boston, 42 percent of hospitals in the U.S. use a "telehealth" approach. Wikipedia defines telehealth "as the delivery of health-related services and information via telecommunications technologies. Telehealth could be as simple as two health professionals discussing a case over the telephone or as sophisticated as doing robotic surgery between facilities at different ends of the globe."
The study also makes note of those states with the highest proportion of participating hospitals – Alaska, Arkansas, South Dakota, Maine and Virginia. States with the lowest proportion of usage includes Rhode Island, Utah, Alabama, Mississippi and Illinois. The researchers found a correlation between higher telehealth adoption rates and laws that require insurers to reimburse web-based services as they do in-person care.
"One of the key lessons for policymakers is that broad-based reimbursement laws seem more effective than narrowly focused ones that might reimburse individual telehealth approaches such as live video," said Julia Adler-Milstein, lead author of the study and an assistant professor at the U-M School of Information and School of Public Health. "None of the narrow reimbursement policies were powerful enough to have an effect."
"We keep a close eye on state-by-state legislation as it is a key component in the mass adoption of telehealth," says John Jennings, AVP/CTO at Trinity Video Communications. "This type of research helps paint a clear picture of where the industry is today, inefficiencies and opportunities that need to be addressed, and where this technology can take us tomorrow."
If your organization is seeking high quality, HIPAA-compliant telemedicine solutions, then consider Trinity's Touchscreen Mobile Telemedicine Station and Mobile Responder products. These units include easy-to-use touchscreen interfaces, high-definition cameras, antibacterial work surfaces and support the addition of peripheral devices.
Visit our www.trinityvideo.net for more details or contact us today at 1-800-261-9008
 to schedule a demonstration.