Does your state pass the telemedicine test?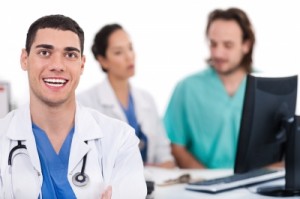 When it comes to telemedicine legislation, how does your state compare? In most states, telemedicine is on the fast track for widespread implementation, as it helps to reduce healthcare costs while still providing an opportunity for face-to-face interaction between patient and caregiver. Cost savings are also realized when ambulatory runs and unnecessary in-office visits are minimized. "There's a cost savings associated with not having patients come back again," said Tatiana Melnik, an attorney in Tampa, Fla., who specializes in data privacy and security, health care, information technology and intellectual property. "If you can do remote monitoring of patients to make sure they're taking their medications, to check their blood counts and things like that without their having to come into the hospital or physician's office, certainly that's better for everyone."
A positive example of how a state is utilizing telemedicine technology is Arkansas. What began as a support mechanism for high-risk pregnancy consultations has grown into an initiative that spans medical specialties including asthma care, pediatric cardiology, gynecology and mental health. The system has also expanded care to diverse populations that includes incarcerated women and people with HIV/AIDS. " Arkansas is a great example of how telemedicine can be used to improve care on a broad scale," said John Jennings, AVP/CTO at Trinity Video Communications. "What's great about this technology is that it can be integrated into almost any healthcare scenario as a tool for providing efficient care. I believe it's only a matter of time before all states and healthcare sectors are using telemedicine."
If your organization is seeking high quality, HIPAA-compliant telemedicine solutions, then consider Trinity's Touchscreen Mobile Telemedicine Station and Mobile Responder products. These units include easy-to-use touchscreen interfaces, high-definition cameras, antibacterial work surfaces and support the addition of peripheral devices.
Visit our Healthcare Solutions page for more details or contact us today at 1-800-261-9008  to schedule a demonstration.
See below for current and proposed telemedicine legislation by state.

SB 336 and HB 334 – Telemedicine practice standards for optometry (STATUS: HB 334 passed and sent to the Senate)

SB 80 – out-of-state physician licensure (STATUS: CARYYOVER T0 2014 Session)

SB 1339 – Codifies use of telemedicine in lieu of in- person visit for prescribing (STATUS: Passed the Senate and sent to the House); SB 1050 – Allow practice and reimbursement of telemedicine by naturopractic providers (STATUS: Passed the Senate and sent to the House); HB 2495 – Repeals telemedicine abortion prohibition; HB 2172 – Includes telemedicine in the scope of practice for psychologists; SB 1353 (LAW EFFECTIVE 1/1/15)

AB 2484 – Informed consent; AB 1771 – Cover and reimburse for physician telephonic and electronic patient management services; AB 809 – changes to informed consent for telemed; AB 318 – Medicaid coverage of dental care via store-and-forward; AB 1174 – Medicaid coverage of dental care via store-and- forward (STATUS: Approved by Assembly and sent to Senate); SB 1445 – Telehealth services and

supports for individuals with developmental disabilities

B20-0050 (LAW EFFECTIVE 10/17/13)

SB 70 and HB 167; SB 1646–formerly SB 7028 – Out of state licensure, practice guidelines and telemedicine parity for Medicaid (STATUS: Voted favorably in committee); HB 0751 – practice guidelines (STATUS: Voted favorably in committee)

SB 2469 and HB 2411 – Amends existing law to include reimbursement parity for telehealth and revises scope of practice and definitions for physicians and APRNs (STATUS: Passed Senate and sent to House); SCR14 and HCR16 – Teledentistry study

HCR 46 – Develop a council to create state telehealth standards (STATUS: Passed both chambers and awaiting Gov. decision)
SB 3319 (new); HB 5313 (new); SB 1422 and SB 2366

(STATUS: CARYYOVER T0 2014 Session)

SB 0346 – Medicaid reimbursement to pharmacists for medication therapy management via telehealth

HF 2160 (STATUS: Bill died in committee); HF 2307 – Allows the use of telemedicine in state-wide perinatal program (STATUS: Bill died in committee); SF 2156 – Telepharmacy licensure

HB 2690 – Parity coverage and reimbursement for telemental health; HB 2531 (new), SB 175, HB 2317, and HB 2395 – Autism diagnosis and treatment coverage (STATUS: CARYYOVER T0 2014 Session)

HB 903 – Amends telemedicine practice guidelines for physicians; requires telehealth parity for all health plans; develops a telehealth commission; SB 501 – Amends telemedicine definition for licensed physicians; HB 1003 – Amends physician practice guidelines to allow the use of store-and-forward

HB 1738 – Allow telemedicine use for consultations/medical exams during involuntary hospitalizations

SB 198 and HB 802 – Lifting restrictions on Medicaid reimbursement of telemedicine-provided services (STATUS: SB 198 passed the Senate and sent to House; HB 802 passed the House); SB 249 and HB 808 – Cybersecurity

H. 1951 – comprehensive mandate for all health plans including Medicaid; S. 530 and H. 2114 – mandates coverage for telemedicine under private, medicaid, and state employee plans; S. 467 – mandates coverage for private and state employee plans only; H. 948 – mandates coverage for telepsych services (STATUS: CARYYOVER T0 2014 Session)

HF 2171 – Coverage and reimbursement for teledental under Medicaid
SB 2646 and HB 578 – Parity for store-and-forward and remote patient monitoring (STATUS: House Bill Died on Calendar; Senate Bill sent to Governor for Signature); SB 2015 and HB 396, 397, 457 – Authorizes Board of Health to develop rules for telemedicine (STATUS: SB 2015 sent to Governor); SB 2209 (LAW EFFECTIVE 7/1/13)

SB 739 – Modifies Medicaid provisions related to out- of-state telehealth providers; HB 1837 – Coverage and reimbursement under Medicaid; HB 986–formerly SB 262 (LAW EFFECTIVE 1/1/14)

SB 270 (LAW EFFECTIVE 1/1/14)

LB 1017 – Revise guidelines for telepharmacy; LB 1078 (new); LB 505 and 605 – Telebehavioral (STATUS: CARRYOVER TO 2014 SESSION)

HB 1158 – Requires managed care plans to offer financial incentives to beneficiaries who use less expensive services like telemedicine

S 1204 and AB 2161 – Medicaid coverage and reimbursement of telemental health in FQHCs

SB 76 and HB 306 – Includes telemedicine in scope of practice for dental therapy-hygienist; SB 69 (LAW EFFECTIVE 7/4/13)

AB 4925 – Telepharmacy; A09129 and S04337b – Requires telemedicine coverage under private insurance and Medicaid; S04023 – Medicaid reimbursement for capital costs related to telemedicine

HB 704 – Telehealth study; SB 533 – Telehealth taskforce and study (STATUS: CARRYOVER TO 2014 SESSION)

HB 123 (STATUS: SIGNED INTO LAW 2/18/13; LAW EFFECTIVE 5/20/14) and SB 166 – Medicaid expansion; SB 118 (STATUS: CARRYOVER TO 2014 SESSION)

HB 2399 – telemedicine reimbursement for Medicaid managed care; HB 3452 – Telemedicine for chronic disease screenings; HB 2089 – repeal informed consent for telemed (STATUS: CARRYOVER TO 2014 SESSION)

SB 1560 – Adds self-insured health plans for state- employees to telemedicine parity law
HB 491; SB 1083 and HB 1655 – Establish patient- centered medical home model with consideration for telemedicine (STATUS: CARRYOVER TO 2014 SESSION)

H 7717; S 753, S 2513 and H 7137 – Licensure

(STATUS: H 7137 passed in the House)

H 4901 (new); S 290 and H 3779 (STATUS: CARRYOVER TO 2014 Session)

HB 1895 and SB 2050 (new) (STATUS: Both bills voted out of committee); SB 484 and HB 923 (STATUS: CARYYOVER T0 2014 Session)

SB 647 – Teledentistry pilot (STATUS: Passed Senate and considered in House)

HB 1448 (STATUS: Passed House and sent to Senate)

AB 458 and SB 410 – amends practice guidelines for telemental health providers (STATUS: ENACTED)