Trinity Video named finalist for GLI's 2014 Inc.credible Awards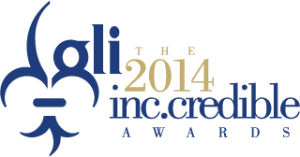 In a recent announcement by Greater Louisville Inc. (GLI), the region's premier business organization and the leading economic development agency for Greater Louisville, Trinity Video Communications has been selected as a finalist for GLI's 2014 Inc.credible Awards. To be eligible for an award, businesses must have opened their business prior to January 1, 2011, have 100 employees or less, be locally owned and operated and have not won an Inc.credible Award in the past 3 years.
GLI celebrates outstanding small businesses with awards given in six categories – Greening/Sustainability; Non-Profit; Health & Wellness; Small Business of the Year; Very Small Business of the Year Award; and Innovation/Technology Utilization Award, which is the category that includes Trinity Video Communications. To qualify for this category, a company must have demonstrated ability in adopting and utilizing technology to directly increase productivity, efficiency, revenue and/or profits. Additional criteria include informed decision-making process around technology adoption, strategic implementation and ability to measure results of utilization.
"This is great news," says Barry Sawayer CEO at Trinity Video Communications. "As a technology-driven company, we're always innovating and looking for new ways to improve the products and services we offer. I look forward to the Awards ceremony on September 12…it should be exciting for all those nominated," says Sawayer.
For more information about GLI's 2014 Inc.credible Awards, visit http://www.greaterlouisville.com/inccredible.
---
About Trinity Video Communications

Trinity Video Communications is an industry-leading audiovisual and video communications company that provides commercial, healthcare, financial, education and manufacturing clients with state-of-the-art technologies that transform the way they communicate, interact and do business. Trinity also provides real-time unified communications to government agencies including the Department of Justice, Department of Defense, Homeland Security and law enforcement agencies at the federal, state and local levels responsible for mission critical initiatives. Trinity is headquartered in Louisville, Kentucky with additional offices in Sterling, Virginia and Cincinnati, Ohio.

For more information about Trinity Video Communications, please contact: Gary Farmer, Manager, Marketing & Midwest Sales at 502.753.8483

or gfarmer@trinityvideo.net.