Commercial Integrator article tells FBI's Wall of Honor story
07.29.14
|
Less than a minute Read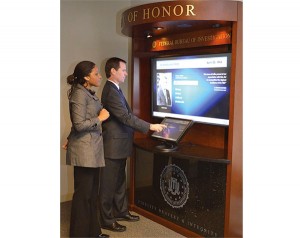 In a recent article, Craig MacCormack, publisher of Commercial Integrator Magazine, highlights the FBI's effort to better memorialize FBI agents killed in the line of duty with a more advanced, high-tech solution. Before the project began, fallen agents were memorialized by static information displayed on a board in each field office across the US. "That setup, which held photos on the wall with double-sided tape, dated back to the 1980s," said FBI Chief Medical Officer, Dr. David Wade, the individual tasked with managing the Wall of Honor project.
To conceptualize and bring to fruition a solution that appropriately honors fallen agents, the FBI partnered with Trinity Video Communications, an industry leading audiovisual and video communications specialist, to develop a touchscreen kiosk with photos, videos and facts about each agent. "We tried to create something that would be fitting," said Trinity Video CEO, Barry Sawayer.
---
About Trinity Video Communications
Trinity Video Communications is an industry-leading audiovisual and video communications company that provides commercial, healthcare, financial, education and manufacturing clients with state-of-the-art technologies that transform the way they communicate, interact and do business. Trinity also provides real-time unified communications to government agencies including the Department of Justice, Department of Defense, Homeland Security and law enforcement agencies at the federal, state and local levels responsible for mission critical initiatives. Trinity is headquartered in Louisville, Kentucky with additional offices in Sterling, Virginia and Cincinnati, Ohio.