Trinity team attends Vidyo partners showcase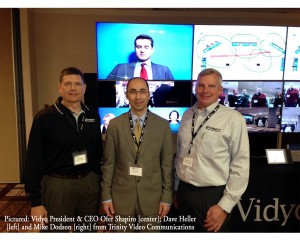 On December 12, 2013, Trinity's Mid-Atlantic Assistant VP, Dave Heller, and Operations Manager, Mike Dodson, attended the 2013 Vidyo Technology Showcase Partners meeting held in Arlington, Virginia.  The Vidyo leadership and staff proudly demonstrated their newest innovative technology with the release of Vidyo 3.0.
The 3.0 upgrade propels the industry forward once again, providing users with a newly designed integrated desktop that raises the bar on the video user experience and democratizes access to visual communications. VidyoConferencing 3.0 also offers two new room system form factors at market-disrupting price/performance levels with enhanced interactive content collaboration and tight integration with a variety of unified communications solutions. "Companies can now confidently invest in enterprise-wide solutions that add intuitive and viral end-user experiences to the industry's most scalable video communications system," said Ofer Shapiro, co-founder and CEO of Vidyo. Mr. Heller added, "We are really impressed with the new features and capabilities in version 3.0. The Vidyo Slate product is very impressive."
About Vidyo, Inc. 
Vidyo, Inc. pioneered Personal Telepresence enabling natural, HD multi-point videoconferences on tablets, smart phones, PCs, Macs, room systems and telepresence installations that interoperate with legacy H.323 and SIP endpoints. Vidyo's infrastructure makes it a leading provider of affordable cloud-based video conferencing technology. The VidyoWorks™ platform allows solution providers to integrate high quality visual communications into their applications, leveraging Scalable Video Coding (SVC) and Vidyo's patented VidyoRouter™ technology. Learn more at www.vidyo.com, on the Blog or follow Vidyo on Twitter @vidyo and on Facebook.
About Trinity Video Communications
Trinity Video Communications provides video, audio and other communications options for commercial, healthcare, legal and law enforcement, education and government applications. Trinity is based in Louisville, Kentucky, and also has offices in Cincinnati, Ohio and Sterling, Virginia. Trinity has a number of government contracts and holds a GSA Schedule 70, with 75% of its employees holding Top Secret clearance. Trinity Video Communications specializes in secure, mobile applications, linking any device, any time, anywhere.
If you would like more information about Vidyo and how it can transform communication within your organization, contact a Trinity Video Communications representative today at 1-800-261-9008
.