Trinity delivers HIPAA compliant telemedicine solutions
02.17.14
|
Less than a minute Read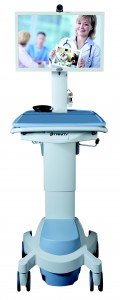 Until a recent incident involving the overdose of a patient, Thomas Trow MD relied heavily on Skype to conduct patient consultations and prescribe medications, including controlled substances. But after a patient died from a drug Dr. Trow had prescribed, the Oklahoma medical board decided to take action and publish a ruling that all telemedicine technology must be HIPAA compliant. Skype, for example, is a video tool created so people could make cheap online calls and was never intended, nor is it capable, of providing the secure and compliant videoconferencing environment required by today's healthcare sector.
Barry Sawayer, CEO of Trinity Video Communications, supports the ruling by the Oklahoma medical board and believes all states should follow Oklahoma's lead. "With the multitude of inexpensive video tools available, strict requirements are needed to ensure the technology put into practice by the medical community is robust and secure enough to do the job. Trinity strives daily to meet these demands by providing telemedicine solutions specifically designed for use in any healthcare environment."
If your organization is seeking high quality, HIPAA compliant telemedicine solutions, then consider Trinity's Touchscreen Mobile Telemedicine Station and Mobile Responder products. These units include features such as easy-to-use touchscreen interfaces, high-definition cameras, antibacterial work surfaces and support the addition of peripheral devices.
Visit our Healthcare Solutions page for more details, or contact us today at 1-800-261-9008  to schedule a demonstration at your location or at our Louisville, Kentucky or Sterling, Virginia offices.