Free White Paper: Screens for Houses of Worship
The audiovisual technology being deployed in today's Houses of Worship are becoming more complex, as attendees have come to expect a more stimulating, immersive communications environment. Along with quality sound, a major component of importance is screen selection – from placement to size, choosing the proper screen is vital to achieving a positive visual experience for all service-goers.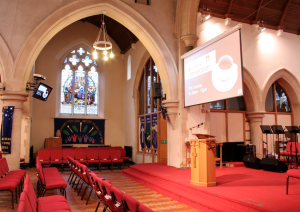 "Our senses are flooded with sound and motion thousands of times each day," says John Jennings, AVP/CTO at Trinity Video Communications. "Houses of worship are changing with the times and realizing a certain amount of production value is necessary to engage parishioners and drive participation," says Jennings.
Read this free white paper from Draper, Inc. and Trinity Video Communications to learn more about choosing the right screens for your House of Worship: Screens for Houses of Worship
---
About Trinity Video Communications
Trinity Video is a leading audiovisual and video communications company that provides the most cutting-edge A/V technologies, including software and BYOD-based solutions, to clients in commercial, healthcare, houses of worship, education and law enforcement to transform the way they communicate, interact and do business.
Trinity Video Communications is headquartered in Louisville, Kentucky with additional offices in Sterling, Virginia and Cincinnati, Ohio. For more information, call Trinity Video Communications at 1-800-261-9100.
About Draper, Inc.
Since 1902, Draper has been manufacturing quality projection screens and related products. In addition to its Spiceland, Indiana headquarters, Draper, Inc. has sales offices in Placentia, CA and in Blackwood, Gwent, United Kingdom. Draper products are shipped to dealers throughout the United States and to more than 100 foreign countries.