On Earth Day, think Videoconferencing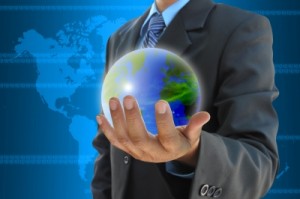 On a day dedicated to creating and maintaining a healthy earth think videoconferencing, as it's a great way to reduce travel expenses and help the environment.
Celebrated on April 22 and now coordinated by the Earth Day Network (EDN), Earth Day is a globally recognized event with a focus on environmental activities and issues, which among other things includes the lowering of Carbon Dioxide (CO2) emissions. "When people hear CO2 emissions, videoconferencing is probably not their first thought," said Barry Sawayer, CEO at Trinity Video Communications. "But, for those in the business world with a need for improved employee and stakeholder interaction, it should be."
According to a report by the Carbon Disclosure Project (CDP), which performed an in-depth analysis of fifteen multi-national corporations, videoconferencing is a useful tool for business communications and the environment:
The use of videoconferencing can avoid the production of millions of metric tons of CO2.
An individual business implementing four telepresence rooms can reduce its CO2 emissions by 2,271 metric tons over five years. These reductions are equivalent to the annual greenhouse gas emissions from over 400 passenger vehicles.
From an economy-wide standpoint, US and UK businesses with annual revenues of more than $1 billion can cut nearly 5.5 million metric tons of CO2 emissions by 2020 as a result of deploying a total of almost 10,000 telepresence units. These reductions are equivalent to the annual greenhouse gas emissions from over one million passenger vehicles.
US firms can reduce CO2 by 963,000 metric tons by 2020, a total of almost 4.6 million metric tons in cumulative cuts in CO2. These reductions are equivalent to the annual greenhouse gas emissions from almost 880,000 passenger vehicles.
If your organization is seeking to increase collaboration and help the environment, call the experts at Trinity Video Communications. We'll work with you to develop a video communications solution that is right for your business and your budget.
For more information, contact Trinity Video Communications today at 1-800-261-9008.
About Trinity Video Communications
Trinity Video Communications is an industry-leading audiovisual and video communications company that provides commercial, healthcare, financial, education and manufacturing clients with state-of-the-art technologies that transform the way they communicate, interact and do business. Trinity also provides real-time unified communications to government agencies including the Department of Justice, Department of Defense, Homeland Security and law enforcement agencies at the federal, state and local levels responsible for mission critical initiatives. Trinity is headquartered in Louisville, Kentucky with additional offices in Sterling, Virginia and Cincinnati, Ohio.