Commercial Integrator Names Trinity Dynamics Kolb to 2015 Class of Influencers Under 40
Commercial Integrator Magazine has named to this year's class of 40 and Un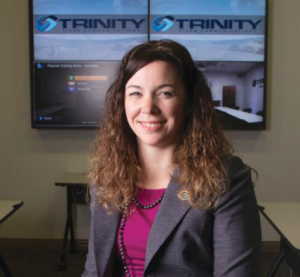 der Industry Influencers Julie Kolb, Assistant VP of Administration and Chief Security Officer at Trinity Dynamics .  Mrs. Kolb joined Trinity Video in 1999.
"Julie has been with our company for quite some time, almost 17 years, and is definitely an integral part of our past and future business success," said Trinity Dynamics CEO Barry Sawayer.  "She's a valuable member of our Executive team, and is a person who carries a lot of respect in the industry.  We're very lucky to have her at Trinity," said Sawayer.
---
About Trinity Dynamics
Trinity Dynamics provides state-of-the-art audiovisual and video communications solutions to large corporations and healthcare organizations to transform the way they communicate and collaborate. Trinity Dynamics also provides real-time unified communications to government agencies including the Department of Justice, Department of Defense, and law enforcement agencies at the federal, state and local levels responsible for mission critical initiatives.  The company specializes in custom room design and systems integration for executive conference rooms, huddle rooms, classrooms, and command and control centers, as well as unified communications, telemedicine solutions, Bring Your Own Device (BYOD) videoconferencing, digital signage, video walls, and streaming video.
For more information, visit www.trinityvideo.net or call 1-800-261-9008 to speak with a Trinity Dyanmics representative.
About Commercial Integrator (CI)
Commercial Integrator is the first publication dedicated to address the business needs of professional integrators who serve the small and midsize business (SMB) market.  Beyond products and installations, Commercial Integrator tackles operational topics like job-estimating, project-bidding and big-picture market forecasting and more.  Commercial Integrator is the only trade magazine that covers the gamut of electronic systems including:
Bars & Restaurants
Corporate
Education
Entertainment
Hospitality
Retail
Worship