Trinity Dynamics Hosts Open House Featuring A/V Integrated Solutions Showcase Tour
Louisville, KY, September 21, 2015—Trinity Dynamics will host an Open House at its new corporate headquarters on Thursday, October 1, 2015. This event will take place in conjunction with the A/V Integrated Solutions Showcase Tour, presented by BP Marketing Group, LLC., and will feature a 36' state-of-the-art exhibit trailer with products from more than 20 different A/V manufacturers including Altona, Casio, Epson, Klipsch, LG, Nova, Presentia, SunBriteDS, SVSi, TV1, Utelogy, VDO 360, Wolf Vision and more.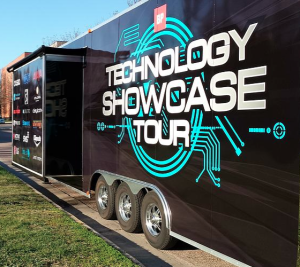 "This is one-of-a kind opportunity to see so many high tech products all in one location," says John Jennings, AVP/CTO at Trinity Dynamics. "Whether you are in the corporate, education or healthcare sector, the Technology Showcase has something every business can use to improve collaboration and information sharing."
The Technology Showcase Tour trailer will be set up at Trinity Video Communications, 11003 Bluegrass Parkway, Ste. 600, Louisville, KY 40299, from 11 a.m. to 4 p.m. Trailer tours begin on each hour and last approximately 45 minutes. Trinity Video representatives will be on-hand for questions, and refreshments will be available.
The event is free, but reservations are appreciated at http://events.r20.constantcontact.com/register/event?oeidk=a07ebiyakgx04f1e537&llr=ucui5moab, or by calling 502-240-6100.
---
About Dynamics
Trinity Dynamics provides state-of-the-art audiovisual and video communications solutions to large corporations and healthcare organizations to transform the way they communicate and share information. Trinity Dynamics also provides real-time unified communications to government agencies including the Department of Justice, Department of Defense, and law enforcement agencies at the federal, state and local levels responsible for mission critical initiatives. The company specializes in A/V systems integration for executive conference rooms, huddle rooms, classrooms, worship centers, and command and control centers, as well as unified communications, telemedicine solutions, Bring Your Own Device (BYOD) videoconferencing, digital signage, video walls, and streaming video.
About BP Marketing Group
BP Marketing Group, LLC is a manufacturer's representative firm specializing in Pro AV & IT solutions serving the commercial, corporate, government, and educational markets.