Huddle Rooms driving small group collaboration in the enterprise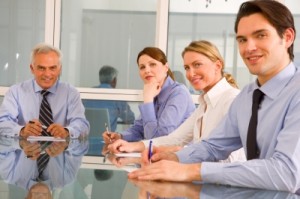 Enterprise customers, long married to large, singularly purposed boardrooms and conference rooms, are adopting a new concept that better supports small group collaboration and productivity – Huddle Rooms. Huddle Rooms are not intended to be a scaled-down boardroom, but rather a defined space that can be used for scheduled/non-scheduled meetings or can be assigned for the length of a project. Most often, huddle rooms are utilized by employees housed in open workstations and by task-driven small groups, typically 4-6 employees, coming together to complete a specific project.
The audio/video technology integrated into each huddle room can range from a simple room configuration to a high-end solution with additional features like extra inputs for devices, a PTZ Camera or sound reinforcement. Wireless technologies and devices for collaborating are also growing in popularity, from AppleTV to Barco's Clickshare and  software-based solutions like Wow Vision's Collab8 are extremely powerful tools.
Companies are realizing the advantages of these new collaboration environments and the benefits of quicker decision-making, improved productivity, better staff communication and advanced innovation. "The interest in huddle rooms has significantly increased over the past year, especially from our larger corporate clients," says Trinity Video AVP/CTO John Jennings. "For a major corporation, we recently created over 30 huddle rooms located throughout their corporate campus to improve information sharing and workflow. To do so, rooms were outfitted with large display monitors, AMX control systems and a combination of various wireless technologies to enable the collaboration experience," says Jennings.
About Trinity Video Communications
Trinity Video Communications is an industry-leading audiovisual and video communications company that provides commercial, healthcare, financial, education and manufacturing clients with state-of-the-art technologies that transform the way they communicate, interact and do business. Trinity also provides real-time unified communications to government agencies including the Department of Justice, Department of Defense, Homeland Security and law enforcement agencies at the federal, state and local levels responsible for mission critical initiatives.
Trinity Video is headquartered in Louisville, Kentucky, with additional sales and engineering support located across the US.  For more information, contact Trinity Video Communications at 1-800-261-9008 or www.trinityvideo.net.