The BYOD revolution is here to stay
01.09.14
|
Less than a minute Read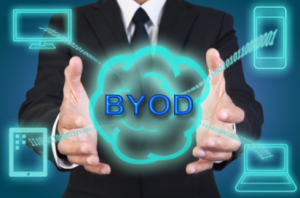 BYOD (bring your own device) refers to employees who bring their own computing devices to the workplace to access enterprise data and systems and is quickly integrating itself into the enterprise. The proliferation of smartphones, tablets, laptops and the like has helped to fuel this emerging but powerful IT movement. As BYOD becomes more prevalent, operational issues such as compliance, mobility and security are all key areas that if left unchecked, can have a negative impact on your network and potentially cause data loss. But, for companies that have embraced the concept of BYOD and manage it properly, it has proven to increase employee productivity and creativity.
According to recent industry research:
• 80% of employees use personal technology for business use
• 73% of businesses increased efficiency when adopting a BYOD program
• 43% of executives report the ability to work offsite or on-the-go as main drivers of BYOD programs
• 47% of executives believe BYOD increases employee productivity
• 51% of executives believe BYOD increases employee creativity
If your organization is ready to embrace BYOD technology, consider Trinity. Trinity Video Communications provides the most cutting-edge videoconferencing technology including software-based solutions and BYOD videoconferencing for commercial, healthcare, legal and law enforcement, education and government applications. Trinity's Virginia office is located in Sterling, Virginia, near Dulles Airport.   Trinity is headquartered in Louisville, Kentucky, with additional offices in Sterling, Virginia and Cincinnati, Ohio.
To learn more about how Trinity can transform the way your organization communicates, contact a representative today at 800-261-9008
.