BYOD Workplace Shift and Importance of Transitioning Smartly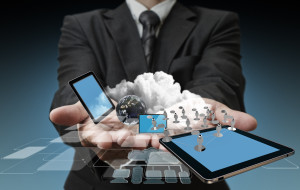 The emerging shift in technology from a Work Provided Devices environment to a Bring Your Own Device (BYOD) norm is impacting companies in a big way. A recent survey conducted by Cisco found that 95% of the responding companies allowed their employees to use personal devices in some aspect of job related activity. While Apple found another 70% of companies had plans to implement or had already implemented BYOD workplaces.
The cost effectiveness and savings offered by transitioning to a BYOD workplace, which according to a 2014 AirWatch survey, are estimated with beginning numbers of a 35% operating cost for the business overall. In addition to a cost effective alternative to the constant need for businesses to update technological devices in an ever changing environment, the benefit of more productive employees in BYOD workplaces has been noted. The AirWatch survey also indicated a 15% increase in employee productivity as a result of using devices that the employee was already familiar with and had readily available for work at all hours and in any location. The substantial savings coupled with the increased productivity that has been observed in the cutting-edge companies already using BYOD workplaces has caused the BYOD movement to be labeled the "tech movement of the future" according to CompTIA.
Trinity Dynamics is already an experienced and tenured provider of Bring Your Own Device (BYOD) solutions, including software-based videoconferencing technology. In order to fuel collaboration, increase productivity and promote workforce mobility to achieve cost savings enterprise-wide, correct implementation and set up is a pivotal decision. Contact Trinity Dynamics for a detailed plan drafting and estimate of the necessities to secure a proper BYOD workplace for your large or small scale company.
For more information, contact Trinity Dynamics at 1-800-261-9008. Trinity Dynamics is headquartered in Louisville, Kentucky with additional offices in Sterling, Virginia and Cincinnati, Ohio.