What to Know About Video Walls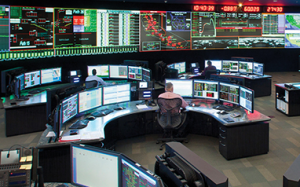 Video wall systems are more advanced than ever, offering a wide range of sizes, resolutions, and flexible mounting options to deliver time sensitive or mission critical information in the most demanding of government, healthcare, and corporate environments.
Here's a few things to know about what today's video wall systems offer:
High Pixel Density
Pixel density is the number of pixels per unit area, and is determined by the resolution and screen size of a display.  When a single projected image is enlarged, pixel density decreases.  However, for a video wall, pixel density is constant regardless of the array size, because it is based on the individual display unit.  Enlarging the array increases the overall resolution of the video wall.
Display and Design Flexibility
A video wall is created by "tiling" multiple display devices together.  By tiling displays, video walls of any size and aspect ratio can be constructed, often in very creative ways.  A video wall display layout never has to be limited to the standard 16:9, 16:10, or 4:3 aspect ratios of single displays.  Additionally, displays in a video wall can be oriented horizontally or vertically, or even a combination of both, further enhancing creative possibilities.
Minimal Footprint
Video walls comprised of flat panels or projection cubes occupy a compact footprint, due to each display's fixed depth.  This depth remains constant, regardless of how large the video wall may be.  A display array 20 units wide and 10units high shares the same depth of a single display device.
Clearness and Brightness
A bright, clear image is crucial for a video display.  Whether being viewed by a workforce interpreting on-screen information, or by customers casually glancing at digital signage in a retail environment, images must be sufficiently bright so that content will be clear and easily viewed.  Video walls present viewers with consistently bright, inviting images, regardless of size.
Mixed Source Resolutions and Formats
A video wall processor accepts and processes multiple signal formats such as standard definition video, computer graphics, and high definition video, so they can be simultaneously displayed together.   Each source can be displayed on any part of a video wall, and many different source types can be displayed within a single screen.  The ability to "mix and match" signal formats for simultaneous viewing can be a crucial factor for workflows that rely on a variety of visual data sources, as well as the flexibility to determine how they should be positioned or grouped together.
Simplified Display Setup
Video wall processors supply a consistent output signal format, eliminating the need to save unique input adjustments such as size, position, or phase for different signal types on each display.  Managing multiple input formats across a common output format simplifies integration, since the displays need only be configured for one resolution and refresh rate.  Driving the display at its native resolution will maintain the best quality image, avoiding inefficient or unnecessary scaling within the display.
---
Trinity Video Communications provides state-of-the-art audiovisual and video communications solutions to large corporations and healthcare organizations to transform the way they communicate and share information. The company specializes in A/V systems integration for executive conference rooms, huddle rooms, classrooms, worship centers, and command and control centers, as well as unified communications, telemedicine solutions, Bring Your Own Device (BYOD) videoconferencing, digital signage, video walls, and streaming video.
In addition to its Louisville, KY, and Sterling, VA, locations, Trinity Video has sales and engineering representatives in Cincinnati, OH, Nashville, TN, and Chicago, IL.  For more information, call 800-261-9008.