Trinity Dynamics CEO Participates in ProAV Panel Discussion
Members of USAV, an association of leading professional audio-visual (ProAV) integrators, gathered in early October for a discussion session focused on "Creating a Leadership Culture" within AV companies. Prior to the meeting, USAV conducted interviews to understand underlying challenges to creating this type of culture, and developed six main themes along with ideas, tools, and best practices to support these topics.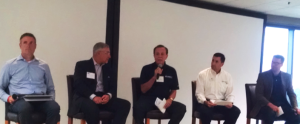 Trinity Dynamics CEO, Barry Sawayer, was asked to lead the discussion on Improving Employee Engagement. "It was interesting to hear the many ways in which other AV integrator organizations defined employee engagement, and the manners in which they communicated a leadership vision that everyone can understand," said Sawayer.
Other discussion topics included: Hiring for management skills vs. technical skills; Developing leaders who are also great coaches and mentors; Creating an environment for change; Workforce demographic change; and Developing a successful succession plan.
"USAV is a strong association filled with very smart and talented leaders," said Sawayer. "We discussed some powerful concepts, and hopefully each integrator can improve their business by applying these shared insights."
---
About Trinity Dynamics
Trinity Dynamics is an audiovisual and video communications company that provides commercial clients with state-of-the-art technologies that transform the way they communicate, interact and do business. Trinity also provides real-time unified communications to government agencies including the Department of Justice, Department of Defense, Homeland Security and law enforcement agencies at the federal, state and local levels responsible for mission critical initiatives.  The company specializes in custom room design and systems integration for executive conference rooms, huddle rooms, classrooms, worship centers, and command and control centers, as well as unified communications, telemedicine solutions, Bring Your Own Device (BYOD) videoconferencing, digital signage, video walls, and streaming video.
About USAV
USAV is the definitive alliance of ProAV integrators delivering ProAV solutions across the United States. The company, headquartered in Denver, has dealers throughout the country. Each dealer is dedicated to designing, sourcing, implementing, and supporting commercial ProAV projects. Founded in 2001, USAV has attracted leading dealers and manufactures in forming the nation's premier ProAV team. www.usav.net