Trinity partners with Listen Technologies to assist with hearing
02.07.14
|
Less than a minute Read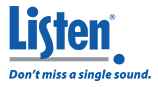 Trinity Video Communications is pleased to announce a distributorship agreement with Listen Technologies, a leading assistive listening, tour group, language interpretation, sound-field and conferencing solutions provider. Listen Technologies creates solutions designed to overcome the challenges of noise, distance, clashing conversations and hearing loss to deliver precise and personalized audio in any setting or environment.
To become a certified distributor, Trinity technicians completed multiple levels of training developed by Listen Technologies to ensure the quality of Hearing Loop installations. Qualified and certified Listen Hearing Loop Integrators, like those at Trinity Video Communications, will be clearly differentiated in the market by their ability to define and install superior performing high value systems to the IEC60118-4 standard.
Recently, the new partnership kicked-off with a project for the Warren County Public Library system, Bob Kirby Branch, located in Bowling Green, KY.  For the library, Trinity installed and integrated a new Assisted Hearing system based upon Listen's industry-leading professional audio hearing loop system to improve the audio environment for those library visitors that are hearing impaired and to provide equal access to the discovery of ideas, the joy of reading and the power of information.
 ###
Trinity Video Communications is an industry-leading audiovisual and video communications company that provides commercial, healthcare, financial, education and manufacturing clients with state-of-the-art technologies that transform the way they communicate, interact and do business.
For more information, contact Trinity Video Communications at 1-800-261-9100
.