Telehealth Video Consultations to Double by 2020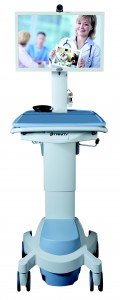 Information and analytics firm IHS has released a new report that predicts the number of video consultations between primary care doctors and their patients will continue to grow into the next decade, potentially reaching 27 million video consultations in the U.S. market by 2020.
"There's no denying the telemedicine industry is booming, and having a major impact on how doctors and patients interact," says Trinity Dynamics CEO Barry Sawayer.  "From educational settings to assisted living facilities and even home health, telemedicine is bringing a level of efficiency the healthcare system needs," said Sawayer.
Download IHS's Telehealth & Remote Patient Monitoring Report-2015 to learn more.
---
About Trinity Dynamics

Trinity Dynamics is a leading audiovisual and video communications company that provides telemedicine products and services, including Bring Your Own Device (BYOD) solutions to facilitate real-time, face-to-face communication between patient and medical staff anytime, anywhere, and from any device – smartphone, laptop, desktop or tablet.  Trinity Dynamics is headquartered in Louisville, Kentucky.
For more information, call 1-800-261-9008 or visit www.trinityvideo.net.
About IHS
IHS (NYSE: IHS) is the leading source of information, insight and analytics in critical areas that shape today's business landscape. Businesses and governments in more than 150 countries around the globe rely on the comprehensive content, expert independent analysis and flexible delivery methods of IHS to make high-impact decisions and develop strategies with speed and confidence. IHS has been in business since 1959 and became a publicly traded company on the New York Stock Exchange in 2005. Headquartered in Englewood, Colorado, USA, IHS is committed to sustainable, profitable growth and employs 8,800 people in 32 countries around the world.