Lane Report article highlights JCUP, Trinity Video's courtroom tech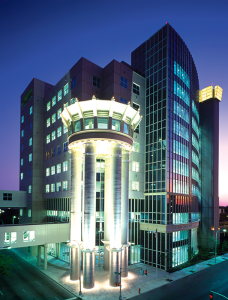 A recent article in The Lane Report's Market Review edition highlights the Jefferson Courtroom Upgrade Project (JCUP) and its impact on trial proceedings within Jefferson County courtrooms. JCUP is an initiative to improve courtroom technology within the Jefferson County court system and gives lawyers and trial judges the capability to share information with the court using virtually any device that outputs a video or audio signal.
Patrick W. Michael, JCUP's Chief Executive Officer and partner at Dinsmore and Shohl, LLP is an integral part of the JCUP initiative. "We are building the courtroom of the future to adapt to the juries of the future," said Michael. "Millennials are used to seeing and using multiple streams of information at once. They expect rich information and can process it intelligently – this system speaks to the Millennial generation's needs for learning and listening. Besides that, this is a big step in moving to a paperless legal system with this project."
As the audiovisual system designer and integrator for the project, Trinity Video Communications worked closely with JCUP leadership to develop a secure and integrated system that was cutting-edge and easy-to-use. "Moving forward, the judicial process in Jefferson County courtrooms will be greatly improved with the new digital systems," said Barry Sawayer, CEO at Trinity Video Communications. "Every person that visits a courtroom in Jefferson County – judges, attorneys, support staff, jurors and defendants – will be positively impacted by the upgrade," said Sawayer.
To read the full article, please visit http://www.lanereport.com/31724/2014/05/the-louisville-courtroom-goes-high-tech/
If you have questions about a technology upgrade for your court system, ask the experts at Trinity. Trinity Video Communications provides the most cutting-edge videoconferencing technology, including software-based solutions and BYOD videoconferencing for commercial, healthcare, legal and law enforcement, education and government applications.
About Trinity Video Communications
Trinity Video Communications is an industry-leading audiovisual and video communications company that provides commercial, healthcare, financial, education and manufacturing clients with state-of-the-art technologies that transform the way they communicate, interact and do business. Trinity also provides real-time unified communications to government agencies including the Department of Justice, Department of Defense, Homeland Security and law enforcement agencies at the federal, state and local levels. Trinity is headquartered in Louisville, Kentucky with additional offices in Sterling, Virginia and Cincinnati, Ohio.
For more information, contact Trinity Video Communications today at 1-800-261-9008.