Dynamic A/V Helps Tell Patient Stories at UofL Health Heart Hospital
06.15.23
|
Less than a minute Read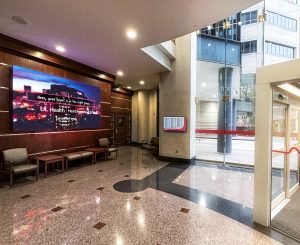 The Mary Rudd Center at the UofL Health Heart Hospital is a central part of the academic health system in Louisville – where surgeons and staff members have had their fingers on the pulse of the latest advances in heart care. By supporting research and education, the Rudd Center leads the way in developing new technology and in training physicians from around the world on leading-edge techniques.
Trinity Dynamics installed a 10-foot direct-view seamless video wall in the entrance of the hospital, creating a dynamic welcome area using the latest technology to help share images and videos that tell the meaningful, heartwarming stories of patients and medical staff.
To create the video wall, Trinity placed 25 individual tiles that resulted in an Absen frameless image that covers a space of 138" diagonal 120" x 67.52" with a pixel pitch of 1.5mm.