Trinity Dynamics Is On The Move
LOUISVILLE, KY (May 21, 2015)  Trinity Dynamics has announced plans to relocate its corporate headquarters on June 1, 2015 to the Commonwealth Business Center at 11003 Bluegrass Parkway, Suite 600. The new space improves the company's project-engineering capabilities and provides the additional space needed to support future growth plans. This announcement follows Trinity's recent news about expansion into Tennessee, which was preceded by entry into the Ohio market in late 2014.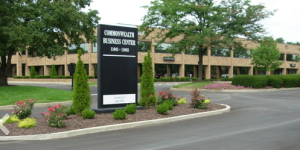 "This is an exciting time at Trinity Dynamics and the new location will help us continue the momentum we've built over almost two decades," says Barry Sawayer, Trinity Dynamics' CEO. "It's a great facility and one more conducive to how we're structured as a company. I believe this, in addition to other operational improvements, will make us a better company moving forward. We have a lot of work ahead of us, but it's well worth the effort if it helps us serve our clients better."
Trinity Dynamics provides state-of-the-art audiovisual and video communications solutions to large corporations and healthcare organizations to transform the way they communicate and share information. Trinity Dynamics also provides real-time unified communications to government agencies including the Department of Justice, Department of Defense, Homeland Security, and law enforcement agencies at the federal, state and local levels responsible for mission critical initiatives.  Trinity Dynamics specializes in custom room design and systems integration for executive conference rooms, huddle rooms, classrooms, worship centers and command and control centers, as well as unified communications, mobile telemedicine solutions, Bring Your Own Device (BYOD) videoconferencing, digital signage, and streaming video.
For more information, call 1-800-261-9008 to speak with a Trinity Dynamics representative.