Trinity Video Communications is Now Trinity Dynamics
07.13.18
|
Less than a minute Read
We're thrilled to announce that Trinity Video Communications is now Trinity Dynamics. While we'll still be serving clients across the globe with all things audio/visual, we're offering and doing much more.
"We are very proud of what we have accomplished for the last 18 years. Our products and markets are continually changing and improving the way organizations communicate and share experiences," said Barry Sawayer, CEO of Trinity Dynamics. "We are more than an audio-video integration company. We are a dynamic solution provider that creates incredible experiences for our customers."
We even hosted an event for our employees to introduce the new organization, where we showcased our history, discussed what our company will grow to become, and continued to celebrate the same core values that drive our company everyday.
We knew our new branding wouldn't be complete without a new logo and website, and we made it happen. Explore our site, and make yourself at home.
About Trinity Dynamics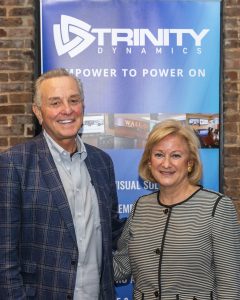 Trinity Dynamics provides state-of-the-art audiovisual and video communications solutions to large corporations and healthcare organizations to transform the way they communicate and share information.
The company specializes in A/V systems integration for executive conference rooms, huddle rooms, classrooms, command and control centers, as well as  telemedicine solutions, Bring Your Own Device (BYOD) videoconferencing, digital signage, video walls, and streaming video.