Trinity talks telemedicine at KY Telehealth meeting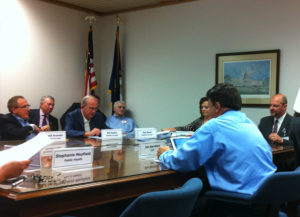 This week at the quarterly meeting of the Kentucky Telehealth Network Board, Trinity Video representatives John Jennings, AVP of Midwest Operations & Chief Technology Officer, Gary Farmer, Manager of Marketing & Midwest Sales and Barry Elliott, Healthcare Account Executive, gathered with other interested parties to discuss a wide range of topics surrounding policy, security and delivery of telemedicine technology in Kentucky.
Trinity's Jennings was asked to inform attendees about new and cost-effective solutions, which are making it easier for company's to implement telemedicine solutions. "No longer should cost be a determining factor regarding the adoption of telemedicine technology, but our policies have to be updated to account for the newer standards and capabilities," said Jennings. "The industry has made a huge leap in software and equipment development, which has led to more inexpensive options. The cost of entry is more manageable today than it's ever been."
The Board agreed they should be open to new technologies and work with organizations to demonstrate their quality, security, and effectiveness.
In other news, the Board announced a reduction in state funding for the KTHN, which could impact services and future growth of the organization. "It's unfortunate because Kentucky has a well-organized telemedicine network and have done a lot of things right. I hope the state will rethink its position and allow the network time to consider other funding options," says Jennings.
If your organization is seeking high quality, HIPAA-compliant telemedicine solutions, then consider Trinity's Touchscreen Mobile Telemedicine Station and Mobile Responder products. These units include easy-to-use touchscreen interfaces, high-definition cameras, antibacterial work surfaces and support the addition of peripheral devices.
Visit our Healthcare Solutions page for more details or contact us today at 502-240-6100 to schedule a demonstration.
About Trinity Video Communications
Trinity Video Communications is an industry-leading audiovisual and video communications company that provides commercial, healthcare, financial, education and manufacturing clients with state-of-the-art technologies that transform the way they communicate, interact and do business.
Trinity is headquartered in Louisville, Kentucky with additional offices in Sterling, Virginia and Cincinnati, Ohio.