Trinity finds home on 2014 HEN Family Tree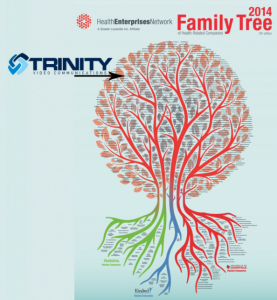 The Health Enterprises Network, a non-profit network focused on the economic development of the region's health-related industry, recently unveiled the 2014 Family Tree of Health-Related Companies, which offers an eye-catching visual of over 500 locally-founded health-related companies and depicts relationships each may share with a handful of "parent" companies, such as Humana, Kindred or the University of Louisville. Trinity Video Communications is honored to be one of the newest members displayed on this year's Family Tree.
"This is certainly an impressive list of health-related companies," says Trinity Video CTO John Jennings. "The Family Tree tells a story of success and we're happy to be a part of it, as these are the most innovative companies our region has to offer."   Mr. Jennings and Barry Elliott, who heads up Trinity's Healthcare division, were present for the unveiling at Louisville's Nucleus Center on Thursday.
For the healthcare community, Trinity offers easy-t0-use telemedicine solutions including a Mobile Telemedicine Station and a portable Mobile Responder unit, both of which are deployable in a variety of healthcare settings.
About the Health Enterprises Network
As the region's largest health-related engine, the Health Enterprises Network (HEN) exists to build a vibrant health-related economy within its 27-county service area. In its eleventh year, HEN fosters a "culture of health" for the region through membership networking opportunities, communication, leadership programs, education and strategic partnerships. Current membership is composed of 188 companies with 1,200 individual representatives.
About Trinity Video Communications
Trinity Video Communications
is an industry-leading audiovisual and video communications company that provides commercial, healthcare, financial, education and manufacturing clients with state-of-the-art technologies that transform the way they communicate, interact and do business. Trinity also provides real-time unified communications for government entities including the Department of Justice, Department of Defense, Homeland Security and law enforcement agencies at the federal, state and local levels responsible for mission critical initiatives.
For more information, contact Barry Elliott at Trinity Video Communications at 1-800-261-9100
.