Signature Healthcare CEO "bullish" on telemedicine and Trinity Video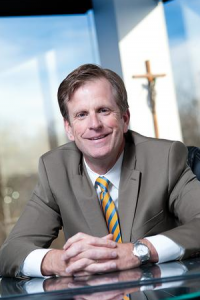 The first ever aging-care conference is happening soon in Louisville, KY with the goal of bringing together local industry experts for discussion and collaboration. As a major local player in the aging-care space and to give perspective on the event and current healthcare environment, Signature HealthCARE CEO, Joe Steier, did an interview with Business First staff writer, David Mann. In addition to questions about the conference and Louisville's reputation as a hot-bed for the sector, Mr. Steier was posed a question about the importance of innovation and what excites him as he looks ahead. In his response, he chose to highlight the telemedicine pilot program that is up-and-running with Trinity Video Communications. The pilot program is "going well," he said. "We're really bullish on those guys" at Trinity Video.
According to Trinity Video Communications CEO, Barry Sawayer, Signature purchased six carts to test and provide feedback to Trinity. Mr. Sawayer believes what is learned from the testing could help others in the healthcare industry see the advantages of the telemedicine cart. "We think we are on the verge of doing something really good," Sawayer said, "especially in the long-term care industry."
If your organization is seeking a low-cost, high-tech solution to provide accessible healthcare services, then consider Trinity's Touchscreen Mobile Telemedicine Station. This unit is designed to work in any healthcare environment. Some of the features include an easy-to-use touchscreen interface, high-definition camera and height-adjustable tabletop with antibacterial work surface.
Visit www.trinityvideo.net for more details on Trinity's Mobile Telemedicine Station. Or, contact us today at 1-800-261-9008
 to schedule a demonstration at your location or at our Louisville, Kentucky or Sterling, Virginia offices.