Product Review: ClickShare by Barco
The ClickShare Wireless Presentation system by Barco is the "Easy Button" for the wireless broadcasting of your laptop or device to a screen for presenting.  The status quo has always been to connect with cables, adapters, or proper configuration (Alt + F7) of your output.  Then there are some other Wireless Presentation Systems that require WiFi login and client application installation and configuration in order to present.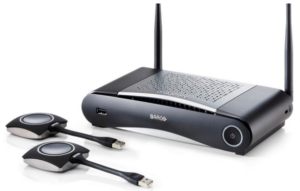 The ClickShare is a simple USB plug in device that has the necessary operation software pre-installed on the "Button" for an automated and simple user connection experience.  It also does not require any network connectivity making it ideal for guest users to present without the need to log into a Corporate Network.  It's compatible with most any device and is designed with a simple On/Off single button that illuminates giving connection confirmation.  Multiple "Buttons" can be used in a system and users can toggle their laptop On and Off in order to take turns in a presentation.  The systems will also display multiple buttons on the screen in a side-by-side or quad screen view.  The "Button" requires no external power or batteries and gets its power from the USB port so it will maintain its connection for lengthy presentations.
"It's such a simple and easy-to-use system," said David Heller, AVP of Engineering & Operations at Trinity Video Communications.  "When you have an environment, like a typical conference room, with visitors, customers, and staff needing to share content, the ClickShare product is extremely useful.  Our team has set-up several ClickShare systems with a high success rate of post-installation usability and reliability," said Heller.
Industry adoption for the ClickShare has been spectacular.  It's established itself as the preferred method of wireless presentation connection and is standard practice for many Professional Presenters.
About Trinity Video Communications
Trinity Video Communications provides state-of-the-art audio/visual and video communications solutions to large corporations, healthcare organizations, and the federal government to transform the way they communicate and collaborate.  The company specializes in custom room design and systems integration, as well as unified communications, telemedicine, secure videoconferencing, digital signage, video walls, pro audio, and streaming video.
Trinity Video Communications is headquartered in Louisville, Kentucky, with additional sales and engineering support located across the U.S.  For more information, contact a Trinity Video representative at 1-800-261-9008 or visit www.trinityvideo.net.