McConnell Public Safety and Transportation Operations Center model of A/V tech integration and agency collaboration
The McConnell Public Safety and Transportation Operations Center (MPSTOC) is a partnership between Fairfax County and the Commonwealth of Virginia that brings multiple agencies and functions together in one facility to enhance the effectiveness of public safety response, traffic congestion management and to better manage the response to and recovery from major emergencies.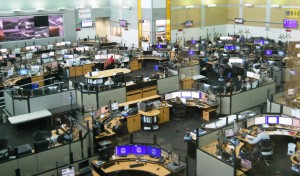 The Center houses a multitude of agencies, including:
Department of Public Safety Communications
Office of Emergency Management
Fairfax County Fire and Rescue Department
Police Department's Forensics facility
Virginia Department of Transportation's Northern Region Transportation Operations Center and Signal System
Virginia Department of State Police Division 7 Communications Center
"MPSTOC is an extremely impressive facility," says Dave Heller, AVP at Trinity Video Communications. "When dealing with time sensitive information, an environment with reliable technology and seamless communication is a must, which is what MPSTOC is all about," says Heller.
To see examples of Trinity's work on the MPSTOC project, check out the video @ http://youtu.be/l9-IdgWZIeQ.
---
Trinity Video Communications is an audiovisual and video communications company that provides clients with state-of-the-art technologies that transform the way they communicate, interact and do business. Trinity also provides real-time unified communications to government agencies including the Department of Justice, Department of Defense, Homeland Security and law enforcement agencies at the federal, state and local levels responsible for mission critical initiatives. Trinity Video Communications holds a GSA Information Technology (IT) Schedule 70, commonly referred to as the IT Schedule or Schedule 70, a contract companies obtain in order to sell IT products and services to the U.S. government.
Trinity is headquartered in Louisville, Kentucky with additional offices in Sterling, Virginia and Cincinnati, Ohio.
For more information, contact a Trinity Video Communications representative at 1-800-261-9008.