Loden Vision Center Incorporates New Audio/Visual Solutions from Trinity Dynamics at New Headquarters
Louisville, KY, May 5, 2016—Loden Vision, located in Nashville, TN, selected Trinity Dynamics as their Audio/Visual technology integrator for their new corporate headquarters in Goodlettsville. The vision center headquarters, a brand-new, 44,000 sq. ft., state-of-the-art facility, at 520 Rivergate Parkway, opened late December 2015.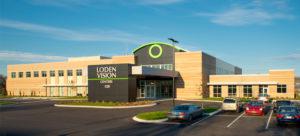 Trinity Dynamics provided an assortment of hi-definition displays for the center, including two 60" digital signage screens for the lobby, a 70" LED television panel for the waiting area, 50" panels for each private exam room, a 60" LED display for the doctor's lounge and two 32" flat screen displays with articulating arms for interaction with patients.
Loden Vision Center owner, Dr. James C. Loden, also required video conferencing capabilities for staff meetings and training sessions, as well as A/V equipment for the surgical room. To meet these needs, Trinity Dynamics recommended a 50" HD monitor, ceiling speakers, a 123" recessed screen and projector within the clinical center, and equipped the staff meeting/training rooms with an interactive white board and projector, projection screen, table top mics, ceiling speakers, video conferencing equipment, and a touch-screen panel that controls lighting, volume and room temperature.
"The Loden Vision headquarters is truly an impressive facility, with modern offices and a cutting-edge surgical center. I am pleased that Trinity Dynamics was able to be a part of such a diverse project with so many different components," said Trinity Video CEO Barry Sawayer.
---
About Loden Vision Centers Loden Vision is one of the largest eye surgery providers in Nashville, TN. Founded by eye surgeon Dr. James C. Loden in 1990, Loden Vision offers LASIK, refractive and cataract surgeries and has three ophthalmologists offering eye care. Its clinics are in Nashville, Green Hills, Goodlettsville, Gallatin and Paris, TN.
About Trinity Dynamics provides state-of-the-art Audio/Visual and video communications solutions to large corporations and healthcare organizations to transform the way they communicate and collaborate. Trinity Dynamics also provides real-time unified communications to government agencies including the Department of Justice, Department of Defense, and law enforcement agencies at the federal, state and local levels responsible for mission critical initiatives.  The company specializes in custom room design and systems integration for executive conference rooms, huddle rooms, classrooms, worship centers, and command and control centers, as well as unified communications, telemedicine solutions, Bring Your Own Device (BYOD) videoconferencing, digital signage, video walls, and streaming video.
Trinity Dynamics is headquartered in Louisville, KY, with sales and engineering representatives in Cincinnati, OH, Nashville, TN, Sterling, VA, Chicago, IL, and Huntsville, AL.