Industry experts talk telemedicine tech in October Lane Report article
 Telemedicine: High-tech tools, old-fashioned touch
Published: October 2014 issue, The Lane Report
 In 1956, the movie "Forbidden Planet" introduced audiences to Robby the Robot. A triumph of special effects for that time period, the self-ambulating robot gave the world some of the most enduring pop-culture images of how technology may one day be applied to serve people's needs. Perhaps, though, a more prophetic vision of the use of robotic technology in contemporary healthcare may be seen in a 1976 movie, "Logan's Run." One of its critical scenes depicts a plastic surgeon operating a machine equipped with robotic arms and surgical instruments designed to perform various types of enhancement surgeries.
The machinery was huge and clunky, but the idea of applying imaging and robotic technology as an extension and enhancement of a medical provider's skills was visionary for its time.
In a very real sense, the real world application of "robot" technology in contemporary healthcare has matched or even exceeded the vision of science fiction. When it works best, the ever newer technology allows more frequent and better contact between providers and the patients who need their expertise – with participants quickly and naturally focusing on their human interaction rather than the high-touch process.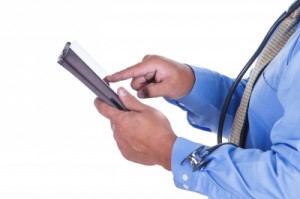 Visitors to the Kentucky Clinic in Lexington are, by now, so familiar with the self-propelled courier robots, Bot-1 and Bot-2, traveling their pre-programmed paths between the medical lab and the old Chandler Medical Center that they rarely draw much notice.
In many hospital pharmacies, robots perform service like an elaborate vending machine. They store, organize and track all the medications that a hospital keeps in stock, use bar-code readers to fill prescriptions, and even prepare the night cart for inpatient distribution. When not engaged in an order, the robots are also programmed to monitor expiration dates and properly dispense with out-of-date pharmaceuticals.
On billboards in most of Kentucky's larger cities, hospitals frequently buy advertising space to promote their acquisition of da Vinci Surgical Robot Systems. Since 1999, when Intuitive Surgical Inc. of Sunnyvale, Calif., first introduced the da Vinci surgical robot, its use has exploded across the country. The stationary system was designed to enhance minimally invasive cardiac surgery by combining high-definition imaging and specialized microsurgical tools that can reach places within the body a surgeon's hands can't.
Since its introduction, da Vinci surgical systems have been adapted to perform a wide array of minimally invasive procedures, decreasing disruptions that complicate treatments and healing for kidney and bladder disorders, cancer treatments and more.
The technology is now almost a decade old and the machines themselves very similar to that classical conception of science-fiction-type robots. Their functions are more refined and precise, but they are still only elaborate devices designed to relieve medical professionals of tedious functions or to extend a surgeon's skills.
Healthcare reform efforts have fueled the development of what can best be described as medical outreach technology.
Medical robots and cart-based telemedicine
In 2007, the then-Owensboro Medical Health System – now simply Owensboro Health – in collaboration with Dr. Kerri Remmel, chief of the University of Louisville's Neurology Department, was one of the first hospitals in Kentucky to experiment with an exciting new application for robot technology. The hospital was facing a crisis, said Dr. Robert Knight, director of the OH Emergency Services Department. One of its two staff neurologists had accepted a new position, which left the hospital short-handed in a critical specialty. Meanwhile, a new interventional treatment called thrombolytics was being introduced for acute stroke patients.
"There are plenty of good outcomes that arise from this treatment, but there are also plenty of potentially bad outcomes because it involves increased bleeding during the procedure," Knight said. As ED director, he preferred to have access to a specialist for a consult before performing thrombolysis. "It was impossible for our one remaining staff neurologist to be on call 24-7 to advise us."
Remmel and UofL offered OMHS a solution. UofL was interested in the clinical applications of robot technology, particularly with outreach to partner hospitals. They offered to purchase an RP-7 robot developed by In-Touch Health, a company in California.
"This was a no brainer for us. UofL was buying the equipment and giving it to us with no risk. What we got out of it was round-the-clock access to a specialist at a time when we needed them," Knight said.
The RP-7 robot, which is still being marketed, is outfitted with a high-definition video screen that projects an image of the doctor's face and a moveable video camera on the top of the video screen.
Remmel can control its camera and move the robot down halls and into rooms using a laptop or tablet computer in her Louisville office, Knight said. It has an electronic stethoscope and attachments on the machine that allowed for two-way conversations – in privacy if necessary – between Remmel and ED doctors or the patient in Owensboro.
"In the first few years we had it, we used that robot a lot," Knight said. "It 'rounded' on patients admitted by the neurologist when our on-staff neurologist was off. We used it for consults with Dr. Remmel in the emergency department, and the robot was also used to monitor premature newborns in our neonatal unit."
Patient response was uniformly positive. Usually after a few moments, patients and doctors reported that the technology "disappeared."
"We got no patient push back whatsoever about the unit," he said. In fact, one unexpected benefit to the patient was in cases when they would be transferred to Louisville. Patients had already established a familiar relationship with Remmel through the machine. "They had seen and talked with her on screen; they knew her. In all the time that we really used the robot, it worked well for us.
Owensboro Health's use of the robot declined after its successful recruitment of new neurologists, decreasing the need for direct access to the UofL Neurology department. "Our new facility has allowed us to increase our medical staffing and brought with it new specialists we didn't have before," Knight said, referring to the $385 million, 477-bed medical center that opened in June. However, he said, this type of robot still could be useful in a smaller community hospital that has less access to specialists – or even primary care doctors. Ultimately, the robot proved useful for the outreach function it could perform in the absence of a local specialist much more so than for the fact that it moved on its own and acted very similar to robots seen in science fiction. A diminished use of the robot in recent years reflects new developments in how medical programs are approaching the advances in broadband connections and shared information in communication and imaging technology.
"Robots are very sexy technology," said Rob Sprang, director of the University of Kentucky's Telehealth Program. "However, when you consider the time it takes to guide a robot from one patient room to another, it doesn't seem to be a very productive use of a physician's time." While less suggestive of the human form, newer cart-based telemedicine devices perform the same function as a robot. The difference is its components are wheeled around on site manually rather than driven remotely by a motor. Sprang has been involved with the development of telemedicine since its inception in the mid-1990s. In those early days, components were as large, clunky and fitfully reliable as their early science fiction counterparts. The technology held telemedicine systems back. In the last seven years, the technology has not only improved dramatically, it has gotten cheaper and more reliable. "Where we used to be proud to handle the transfer of megabytes of information, the technology is handling gigabytes and terabytes today. Also, when you turn something on, you know it's going to work," Sprang said.
Companies with a background in secure videoconferencing are finding new markets with telemedicine. One of the new businesses to explore this frontier is Trinity Audiovisual Systems, based in Louisville.
Trinity began life as a secure video-communications company with lucrative federal government and law enforcement contracts. In an age in which it is becoming increasingly difficult to maintain top-secret communications, Trinity emerged as a market leader in the field. John Jennings, chief technology officer and assistant vice president of Trinity's Midwest operations, said the company recognized three years ago that it needed to diversify and found the healthcare industry was a natural fit. "Healthcare is becoming a shared technology industry," Jennings said, "but it needs a secure environment for such things as electronic health records and private communications among healthcare providers, their patients and in consult with other doctors. It was logical for Trinity, a company specializing in secure communications, to deliver services to an industry that was in desperate need of secure communication solutions."
The Health Information and Patient Privacy Act that required stringent security protocols to protect patient information didn't bother the company. It had been producing secure communication in top-secret circles for nearly two decades, Jennings said. "There are so many areas in broadband communications that are not secure. We encountered situations in which healthcare providers were conferring about patients using Skype. Internet social media platforms are not even remotely secure platforms," he said.
Two years ago, Trinity introduced its own portable telemedicine platform. Its engineers and designers conferred with a client concerning their needs and created a portable platform that a hospital staff person can move easily from one hospital bed to another. "These days, we're not being asked so much for devices as much as we are being asked for secure software systems that can be uploaded to a laptop, tablet or even a smart phone," Jennings said. "We can work with any kind of endpoint device."
"I have seen fully automated robots that do much the same thing as a telemedicine platform, but I have also seen price tags of nearly $100,000. Portable units tend to run much cheaper," Jennings said.
Even In-Touch – the leader in robot technology – has developed a manual version of its RP-7 telemedicine robot.
Trinity is finding that the market for their products is more with long-term-care facilities and home-care companies than hospitals. The pilot project that led Trinity to more fully develop its telemedicine service came with a contract between it and Signature HealthCARE, the progressive Louisville-based company that runs several long-term-care facilities. Buyers are leaning toward telemedicine carts with a mounted video screen, high-resolution cameras and microphones, and a fixed tablet or laptop device and other related acute-care peripherals. Systems are getting to the point where patients and doctors can have direct remote encounters at the workplace, in the home, at a long-term-care center, or even in another doctor's office.
Regional and community hospitals are looking at portable telemedicine units as a way to connect patients with specialists without forcing either party to travel to see each other.
Virtual Urgent Care
Underscoring Jennings' comments about the rising demand for secure software rather than hardware, KentuckyOne Health is launching its new Anywhere Care service this month.
University of Kentucky's telehealth program, the Kentucky TeleCare Network, and the statewide, Kentucky TeleHealth Network, uses videoconference technology to bring physicians and patients together from across the state, as well as across the world.
Anywhere Care allows Kentuckians to get in contact with a healthcare provider by phone or by web camera 24 hours a day, seven days a week, including when they are away from home.
Though in its earliest stages of implementation, the Anywhere Care service takes telemedicine to the next logical evolutionary step. People experiencing a sudden illness no longer need to go to a clinic, emergency room or physician's office to consult a physician. Via a toll-free number, they can schedule a phone call or video chat on their computer or tablet.
Anywhere Care participant patients will be explaining their symptoms with a primary care physician or nurse practitioner within 30 minutes of their call, according to KentuckyOne Health, the state's largest care system with more than 200 locations and 15,000 employees. Furthermore, the practitioner being consulted can prescribe medications (with the exception of controlled substances) or recommend over-the-counter treatments.
Patients pay directly for the telemedicine consult, which is $35. Health insurance is not billed for Anywhere Care services, but the simple flat rate is cheaper for the patient than an ER visit or a visit to an urgent care clinic. If symptoms warrant, the practitioner will refer patients for a follow-up visit to a clinic.
KentuckyOne's Anywhere Care service is the result of a partnership between the Kentucky healthcare firm and Carena Inc., a Seattle-based telemedicine company. KentuckyOne Health also recently launched special telehealth clinics in Wolfe and Powell counties equipped to let patients there have videoconference visits with remote doctors and practitioners.
Other future directions
If the direction of medical reform continues along the path blazed for it in the Affordable Care Act, then Sprang said remote patient monitoring may be one of the bright futures for applied medical technology.
The vast improvements in Bluetooth and Internet-based communication that have fueled the rapid development of telemedicine are enabling hospitals to introduce advanced patient monitoring systems in their intensive care units. "We are moving to a place in a reformed system of healthcare where we no longer wait until a patient gets sick and then care for them, but to actually try and keep patients from getting sick," he said.
Owensboro Health announced in October that its 32 ICU beds would receive 24/7 remote monitoring from the Christ Hospital Critical Connections program, which is based in Cincinnati. The service does not replace ICU staffing, but it does use a powerful in-room video monitoring system to detect changes in skin color or eye movement or other warning signs of a potentially fatal event.
Another example of applied patient monitoring systems involves a study conducted in North Carolina with some 700 patients who, in a 90-day period, accounted for an inordinate number of inpatient stays at a hospital.
These patients, Sprang said, had a tendency to resist altering their behaviors to improve their health. The hospital conducting the study outfitted participants' homes with a cellular or Bluetooth-based communication hub that linked to a patient-monitoring station at the hospital. The home hub connected to an ordinary bathroom scale, a blood pressure cuff and a pulse oximetry device to monitor a patient's progress after an inpatient hospital stay. The hub remained with the patients 90 days, and their hospital re-admissions rate dropped 65 percent below the norm. This was only one study, but application of basic telemedicine technology "seemed to have a positive result with people," Sprang said. Each day, participants would use the connected devices and staff at the remote monitoring station would review the results. If there were warning signs – an abnormal weight increase, a rise in blood pressure – a provider called the home and to ask the person if they had been engaging in behaviors that contributed to their poor health.
It suggests one future direction for medical technology could be a "virtual" return to the age-old home visit doctors conducted in the days before there were even telephone lines strung across the landscape. Technology has made an incredible impact on the quality and efficiency of care, but at its heart, the circuitry is all about creating more effective human connections.
Josh Shepherd is a correspondent for The Lane Report. He can be reached at editorial@lanereport.com