Benefits of BYOD in the Workplace
Bring Your Own Device, or BYOD, is becoming common practice in today's mobile business environment. BYOD refers to employees bringing their own computing devices—such as smartphones, laptops and tablets—to the workplace. And, why not? According to the Pew Research Center, 68% of U.S. adults own a smartphone, 73% own a laptop/desktop computer, and 45% own a tablet.
BYOD workplaces offer many benefits, including the ones below: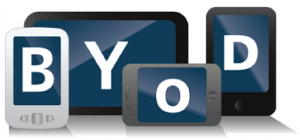 Increased Employee Satisfaction and Productivity – Employees are more comfortable using their own personal device. They are familiar with how their device works, and can move through emails, phone calls and other apps quickly. As a result, employees are able to do their jobs without the frustration of trying to figure out how to access voice mail or email on a different tablet or phone than the one they are accustomed to.
Reduced Costs – Technology is constantly changing, and individuals are more likely to buy the latest and greatest device available after a year or two. However, this would be difficult for a company to make these types of purchases as often. It takes time and money to continuously research and purchase the latest technology on a yearly basis. With BYOD, this cost is taken on by the employee.
Increased Engagement off Site and After Hours – Business travelers often experience downtime between flights and waiting for off-site meetings. This time can be used more productively to respond to emails, prepare for presentations and conduct other business if an employee has a personal device that is able to access all workplace files and documents in one place. The result is more productivity and a better ability to respond when out of the office.
Alleviates IT Stress – Most BYOD workplaces require employees to be responsible for the upkeep and maintenance of their personal devices. As a result, IT is able to focus on more important tasks instead of being distracted by Help Desk tickets throughout the day.
Creates a Welcoming Environment – Whether it be hiring a new employee or bringing in customers for a meeting at your workplace, BYOD allows all parties to connect electronically regardless if an individual uses an Apple or Android, or prefers their tablet over their laptop. With a connector hub or wireless connectivity, anyone attending a meeting in a BYOD workplace can use their device to share content on a large screen with others.
---
Trinity Video Communications provides state-of-the-art audiovisual and video communications solutions to large corporations and healthcare organizations to transform the way they communicate and collaborate. Trinity Video also provides real-time unified communications to government agencies including the Department of Justice, Department of Defense, and law enforcement agencies at the federal, state and local levels responsible for mission critical initiatives. The company specializes in custom room design and systems integration for executive conference rooms, huddle rooms, classrooms, worship centers, and command and control centers, as well as unified communications, telemedicine solutions, Bring Your Own Device (BYOD) videoconferencing, digital signage, video walls, and streaming video.
Trinity Video is headquartered in Louisville, KY, with sales and engineering representatives in Cincinnati, OH, Nashville, TN, Sterling, VA, and Chicago, IL.  To learn more, call 1-800-2619008.