Aging care the focus at Louisville Innovation Summit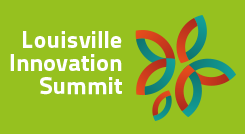 The Louisville Innovation Summit was recently held at the Kentucky Center for the Arts, located in downtown Louisville. The event has proved successful as it attracted hundreds of attendees including many CEOs and industry thought-leaders. The event also provided a unique networking environment that promoted the exchange of expertise and ingenuity among the audience. Trinity's executive leadership and healthcare team also attended the event and were impressed with what they saw.
John Jennings, Chief Technology Officer of Trinity had this to say. "The innovative solutions being brought to the market are simply amazing. One speaker predicted the 'end of disease' in 30 or so years. That's mind-boggling to think about. Organizations using 3D printers to create organic tissue and body parts, scanners that detect what's wrong with you, devices that detect and repair damage.  The future is shaping up and it's incredible."
The Summit included a competition of entrepreneurs bringing unique solutions to the table.  The winner was Walkjoy, a start-up that has produced a product aimed at assisting seniors with balance and gait. "I was really impressed with Blain Tonlinson and his product," said Barry Sawayer, CEO of Trinity.
"The event was a huge success," according to Barry Elliott, Healthcare Sales Executive for Trinity. "It was a great networking event for both the business and thought-leaders of the long-term care industry."
###
Trinity Video Communications provides the most cutting-edge audio and visual solutions including software-based and BYOD technology for commercial, healthcare, legal and law enforcement, education and government applications. Trinity is based in Louisville, Kentucky, with additional offices in Cincinnati, Ohio and Sterling, Virginia. To learn more about how Trinity can transform the way your organization communicates, contact a representative today at 800-261-9008.