2013 Healthcare Technology Open House & Telemedicine Product Demonstration
08.07.13
|
Less than a minute Read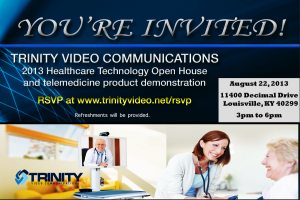 Providing quality healthcare services to everyone, everywhere is an economic and logistical challenge. Trinity's mission is to provide you with a high-quality, affordable solution to meet that challenge.
Please join us at Trinity Video Communications on Thursday, August 22, 2013 for our Healthcare Technology Open House and Telemedicine Product Demonstration. The event is free and registrations can be made by visiting www.trinityvideo.net/rsvp.
We hope to see you there!